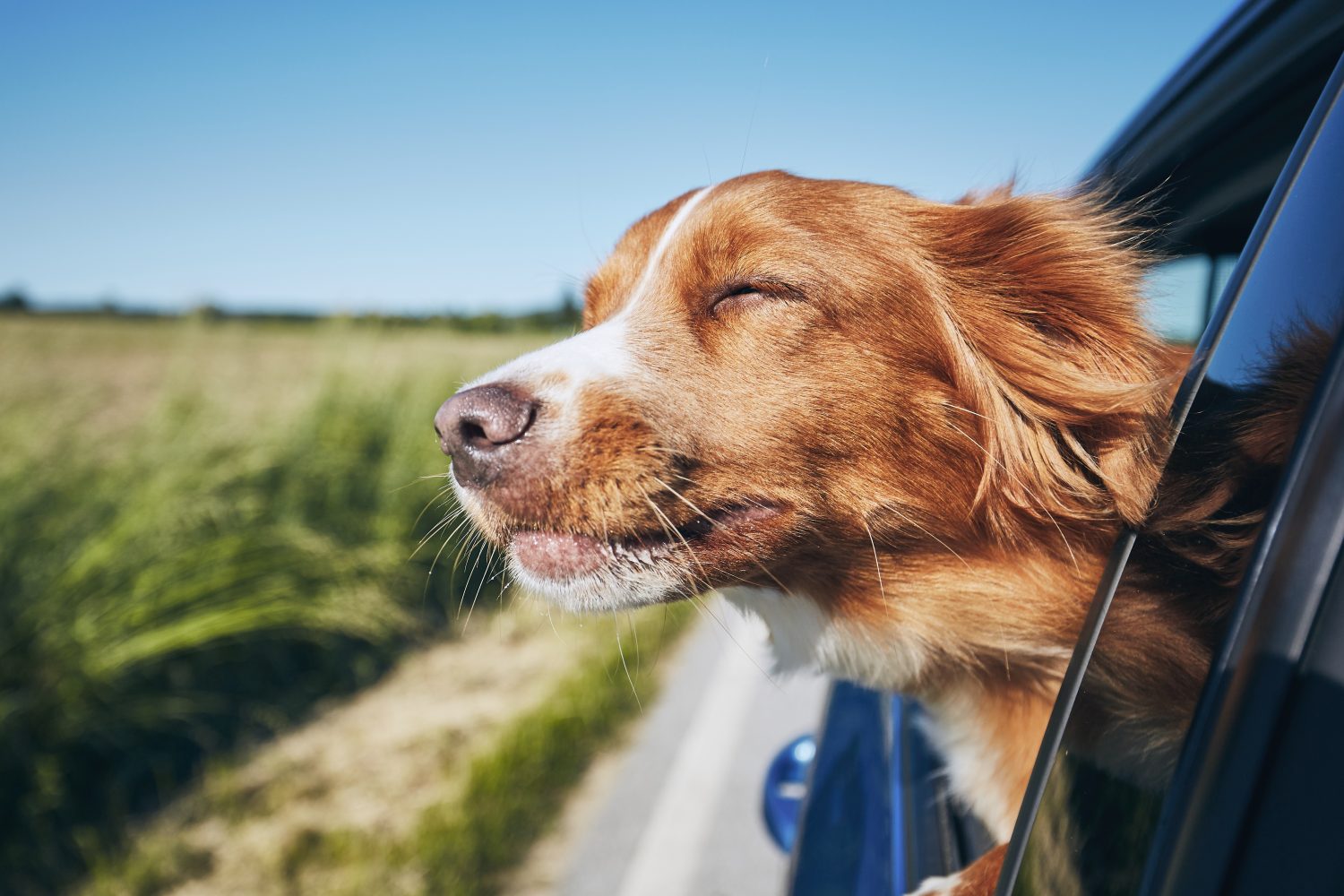 With summer underway, many of us have the travel bug – especially after a year of sheltering in place! But when the open road calls to you and your pet, there are a few safety precautions that should be taken. Keep these pet travel safety tips in mind, both as you pack and as you travel, and ensure you and your pet both have the vacation you deserve.
ID Tags and Microchips
When preparing your pet for a family vacation, you'll want to make sure he or she is wearing a collar with proper ID tags. However, collars can and do come off. For this reason, we recommend you have your pet microchipped (if they aren't already) and that you double-check that the chip is both registered and has your current contact information.
More than likely, your pet won't leave your side during your trip. Still, you'll want to make sure his or her identification is apparent in case your pet runs off or gets separated from you during your vacation.
Packing for Your Pet
Just as you need a few comforts from home, so does your pet. Here are a few of the things you'll want to pack for your pet's summer vacation:
Food and water (pack extra)
Collapsible food and water bowls
Bed
Collar and leash (plus an extra set)
Toys
Medications and supplements
Crate or travel carrier
Litter box, scoop, litter, and disposal bags
Towels or rags for drying muddy paws
Brush
Baby wipes and potty pads for easy clean ups
Pet first aid kit
If your pet is taking any medications, you'll want to double check that you won't run out on your trip. Give us a call for any refills before you leave.
Vaccinations and Motion Sickness
Your pet should be up to date on all vaccinations before you leave on vacation. In fact, some states require that you carry a proof of vaccination when you travel between state borders. You'll need a health certificate from a veterinarian dated no less than 10 days prior to your departure if you are traveling out of the country, including to Mexico or Canada.
Double check with your veterinarian to make sure that your pet is current on flea, tick, heartworm and intestinal parasite preventives so that he or she will be safe from infectious diseases and parasites while you travel.
It is also important to limit the amount of time that your pet rides with his or her head out of the windows prolonged exposure to the rapidly moving air and debris such as grass, pollen, and dust can cause eye, ear, and throat irritation. Please also ensure your pet is wearing a harness and that an adult is holding him or her if you do decide to allow your small pet to have his or her head out the window. A little bit is okay, but overall this is not the best practice for a responsible pet owner.
If your pet experiences motion sickness, give us a call before your departure to discuss certain medications that may help alleviate any tummy trouble and make the trip more bearable for your pet (and for you!).
Car Restraints
An unrestrained pet in the car can cause serious safety problems during a family vacation, such as jumping onto the driver's lap or moving between seats while traveling down the interstate.
To keep your family and your pet safe, restrain your pet with a harness or keep your pet in a securely anchored pet carrier or travel crate while traveling. Be sure to do your research about the best options depending on your pet's size, age, and breed, and don't hesitate to call us with any questions.
Rest Stops and Water Breaks
Plan for plenty of rest stops to allow your pet out of the vehicle to drink water, stretch his or her legs, and go to the bathroom.
Taking your pet for a short walk at the rest stop is a good way to keep your pet happy and alleviate stress from the car. This can make the trip much more enjoyable for your pet. You can also research dog parks and other dog friendly stops for your canine friend, which can allow him or her to burn off some excess energy and experience the smells of somewhere new.
Since the majority of your travel will be by car, it's important to mention that you should never leave your pet alone in a parked vehicle. Even with mild temperatures outside, the internal temperature of a vehicle can easily exceed above 100 degrees in mere minutes, even with the windows cracked open. If you do need to spend the day sight-seeing in a less than pet friendly spot, check to see if there is a doggy day care nearby where your pet can spend the day, instead.
Your pet will love the chance to accompany you and your family on your summer vacation, especially if the time in the car is peaceful and relaxing.
Please don't hesitate to call us if you need assistance with making sure your pet is ready to travel, and with any questions or concerns. Safe travels!