If you've ever taken a walk with your dog in the woods or through a field, only to have your best friend scratching up a storm for the next several days, she might have experienced a chigger attack.
In cats, chiggers are most commonly found around the ears and between the toes, but can be found almost anywhere on the body. Because of intense itching caused by these mites , your cat may chew or scratch itself, causing self-inflicted wounds. The resulting skin lesions vary from crusted spots to areas of hair loss to raw moist bleeding areas.
These tiny orange – red mites (also known as Harvest mites) reside in grass and underbrush during September through January in the Santa Cruz Mountains. They are so small that you might not even notice them on your dog or cat but, once they become a source of itchy discomfort, they're difficult to ignore.
Continue…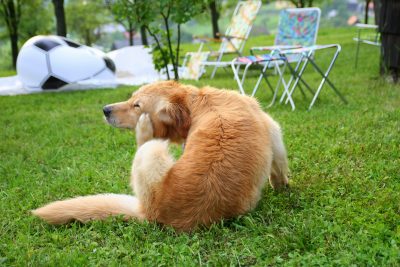 Fleas and ticks are more than just an annoyance to pets — and to pet owners, who have to listen to the scratching or remove the ticks. These unwanted critters are a potentially significant source of disease, misery, and expense.