Veterinarian
Dr. Robert Atton

Veterinarian
Dr. Robert Atton was born on the west side of Santa Cruz in the 50s when Santa Cruz was still a sleepy little beach town.
He was fortunate to be born into a family who loved animals.
While attending Cabrillo College, Bob began volunteering at a veterinary hospital in Santa Cruz where he had the opportunity to work with veterinarians and nurses on nighttime emergency shifts, and in surgery, radiology, and in the ICU.
With his schooling and his experiences volunteering, he decided he wanted to become a veterinarian. Upon finishing his degree in Biology at UCSC, he went on to obtain his Doctor of Veterinary Medicine Degree from UC Davis.
Never one to do things the easy way, Bob attended UCSC and veterinary school while being married and raising children.
Dr. Kathy Calvert

Veterinarian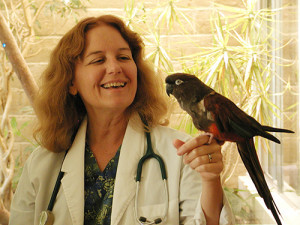 Dr. Kathy Calvert grew up in San Francisco and Berkeley around aquariums and several cages with eggs hatching into chicks and lizards. One of her first jobs was at a pet store when she was twelve years old.
Dr. Calvert received her BA in Environmental Studies from UC Santa Cruz, and a Doctor of Veterinary Medicine degree from UC Davis in 1991. She spent many years developing her exotics experience working in exotics hospitals, zoos, and attending exotics conferences.
Dr. Calvert is one of the few veterinarians in our area with exotics experience - and treats reptiles, birds, rabbits, rodents, and ferrets, as well as cats and dogs of course.
Many appreciate that Dr. Calvert is a good listener and teacher, as well as empathetic and supportive. Dr. Calvert appreciates the variety of her patients, since each individual is different. She enjoys improving health of animals as well as relieving suffering. She's also very concerned about the conservation of endangered species and embraces our connection to the natural world.
Dr. Calvert also enjoys traveling as well as outdoor activities such as camping or backpacking especially with her family. She's intelligent, hard working, reliable, friendly, and possesses a high attention to detail.
Staff
Joanna

Manager
Joanna grew up in a suburban neighborhood in San Jose when it still had open orchards and remnants of its agricultural origins. She has been obsessed with horses and 4-legged animals, as well as the desire to live on a ranch since age 9, pleading to her parents to get them to sell their home and buy horse property. Her family finally bought her a horse when she turned 11.
Her first job was at age 15 as a stall cleaner, where she drove a tractor and where her horse was boarded. This first job made Joanna feel like she was in heaven. Her second job was as a "kennel kid" at a veterinary hospital in San Jose. She has worked in the veterinary field ever since and has probably held every position with the exception of being a veterinarian.
After receiving a Biology degree at San Jose State, she went on to become a licensed veterinary technician at Hartnell College. At the same time, she met her future husband who lived in a "wonderland" she had not previously discovered on her treks from San Jose to the beaches. He lived in the place where Joanna felt like she "belonged" – the Santa Cruz mountains.
Thereafter, she left the suburbs of San Jose behind and has lived in the mountains for over 30 years.
Over 20 years ago, Joanna joined the team at Felton Veterinary Hospital with a feeling that she had found another "place where she belonged."
Working with an incredible and dedicated staff in the small and unique community where she lives, she has still found time to raise her children, and she has set her professional roots as deep as her community roots.
When Dr. Robert Atton built a beautifully designed and spacious hospital 7 years ago, I was so proud to belong to a team that could offer our community not just a special group of doctors and support staff, but an incredible facility where our clients could bring their pets for quality care.
All these years later, with our home in the mountains, property to landscape and garden, in the company of pets, a job I still love in a community I have become a part of, I feel like all my longings as a little girl in the suburbs of San Jose have been fulfilled.

Jill

Nurse
Jill Bender was born in Los Gatos and grew up in Santa Cruz. Her desire and love of caring for animals began when she was young. She grew up spending summers and holidays with her grandparents on their cattle ranch in the Central Valley. She accompanied her grandfather while he harvested cotton and alfalfa, and learned to care for the livestock alongside her grandmother. The value and satisfaction of a hard days work was taught to her and her two older brothers early on in life.
That big old farmhouse in the country was indeed our favorite place in the world, and I will always hold many fond memories.
Jill graduated from Santa Cruz High School and attended Cabrillo College. She has worked in Santa Cruz and the San Lorenzo Valley for over 25 years as a Veterinary Nurse, professional dog and cat groomer, and pet sitter.
She is a hard worker with a strong work ethic who is also patient, loving, kind, understanding, and compassionate. She would like to be known for her lightheartedness and a great sense of humor. She enjoys cooking, working out at the gym, swimming, and being a beach bum. She enjoys educating clients on preventative and post operative care.
Being part of our patients' healing a recovery is very rewarding, as well as offering comfort and understanding to our clients when they lose a beloved pet.
I love the variety of animals we see in our hospital: the reptiles, birds, rabbits, ferrets, cats and dogs. I have a soft spot and special way with the little dogs (the little spunky rascals).
I am proud to be part of the caring team here at the Felton Veterinary Hospital. Felton is such a beautiful place to come to work, and our clients are special and down to earth.
Brooke, RVT

RVT
As far back as she can remember Brooke always wanted to work with animals.
At a young age she loved providing medical care for her horse and her dogs.
This love of animals led her study Veterinary Technology at Carrington College and to become a certified RVT in the state of California.
Brooke's energy, drive and above all, compassion are evident as she provides care for our patients and education to our clients at Felton Veterinary Hospital. Although Brooke is a nurse, she is also enjoys assisting clients at the front desk.
Brooke lives in Santa Cruz with her pups Jade, a lab mix, and Georgia, a chihuahua. Jade enjoys going on trail rides with Adagio, Brooke's running quarter horse, and Georgia enjoys the beach and working part time as a greeter at the front desk.
Christa , RVT

RVT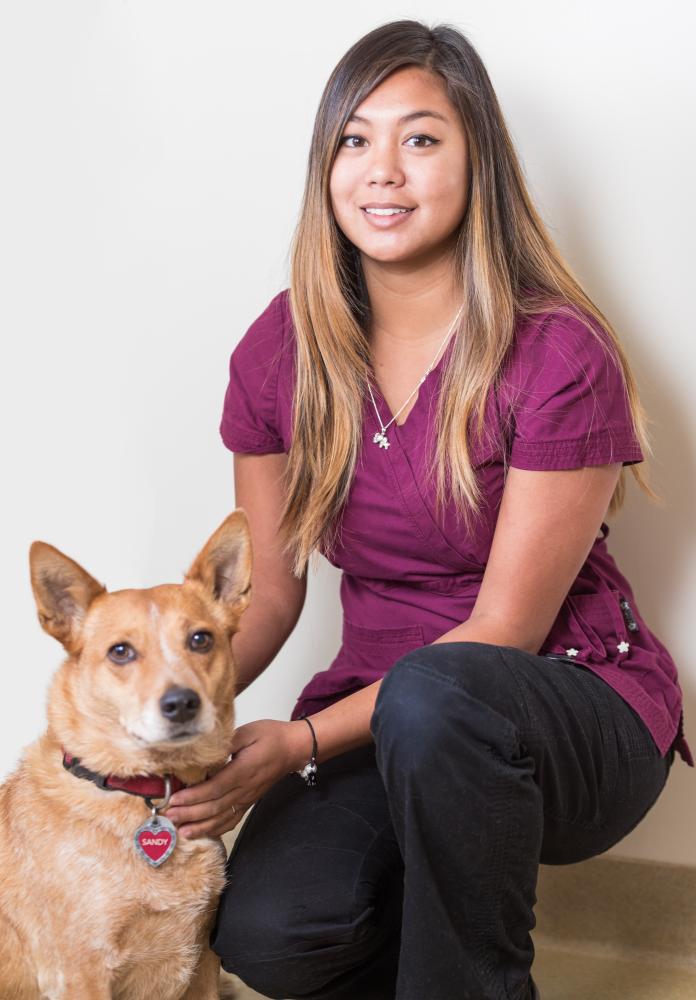 Christa was born in Santa Cruz, grew up in Gilroy and now considers the Santa Cruz Mountains her home.
Christa has always loved animals . As a child she was constantly begging her parents for pets.
After getting and caring for her first dog, Christa knew she had a passion for caring for animals and decided to enroll in The Veterinary Technology Program at Foothill College.
Christa worked as a kennel attendant and interned as a nurse at Felton Veterinary Hospital.
Once she graduated, she joined our team as a nurse where she enjoys caring for all different types of animals including reptiles, birds and pocket pets.
Christa's calmness, eagerness to learn, along with her lifelong love of animals makes her a truly great addition to our nursing staff.
When not at work, Christa can be found walking on the beach with her partner and their pups.
Sandy is a corgi mix who loves running amok at the beach & Milo is a young heeler/lab mix who loves rope toys and cuddles.
Lindsay, RVT

RVT
Lindsay is a Scott's Valley native whose love for animals started early and quickly grew into a passion.
After graduating from California State University, Fresno with a bachelors degree in Animal Science with an emphasis on pre-vet, she volunteered and worked as an Animal Care Technician at local shelters and boarding facilities. Most recently she worked as a tech at a large animal hospital in Santa Cruz.
Lindsay is currently continuing her education and hopes to be certified as an RVT in the state of California in August.
Lindsay enjoys general practice work because it allows her to form close bonds with coworkers, patients & clients. She also enjoys the variety of health issues a small clinic offers.
Lindsay brings a depth of knowledge & compassion to all situations but especially enjoys assisting with dentistry and educating clients on the importance of good dental care.
Lindsay's family includes her husband , and their four furry kids.
Rory- a sweet hearted spaniel who enjoys chasing birds and romping in grass. Charlie a cocker she adopted from the Fresno shelter who loves playing ball and looking out for Rory. Calvin and Hobbes, two adorable cats that were abandoned at pet resort.
Arrin

Nurse
As long as she can remember Erin has had an affinity with animals. At 16,she took an Animal Health care Course that set the course for her career.
She began working at a Veterinary Hospital in San Francisco followed by several years working in a general practice office and later at a surgery specialty practice.
After taking time off to raise her children she is back doing what she loves, providing compassionate & skilled care to our clients and patients at FVH.
While Erin's passion is assisting in surgery and with emerging emergencies, she is equality committed to caring for our patients and the families who love them.
Erin's Best friend is Hula, a ball obsessed Australian Shepherd, who shares her house with two cats, Olly and Bissa.
In her free time Erin can be found trial riding or participating in gymkhana with her beloved quarter horse Tucker.
Marie

Nurse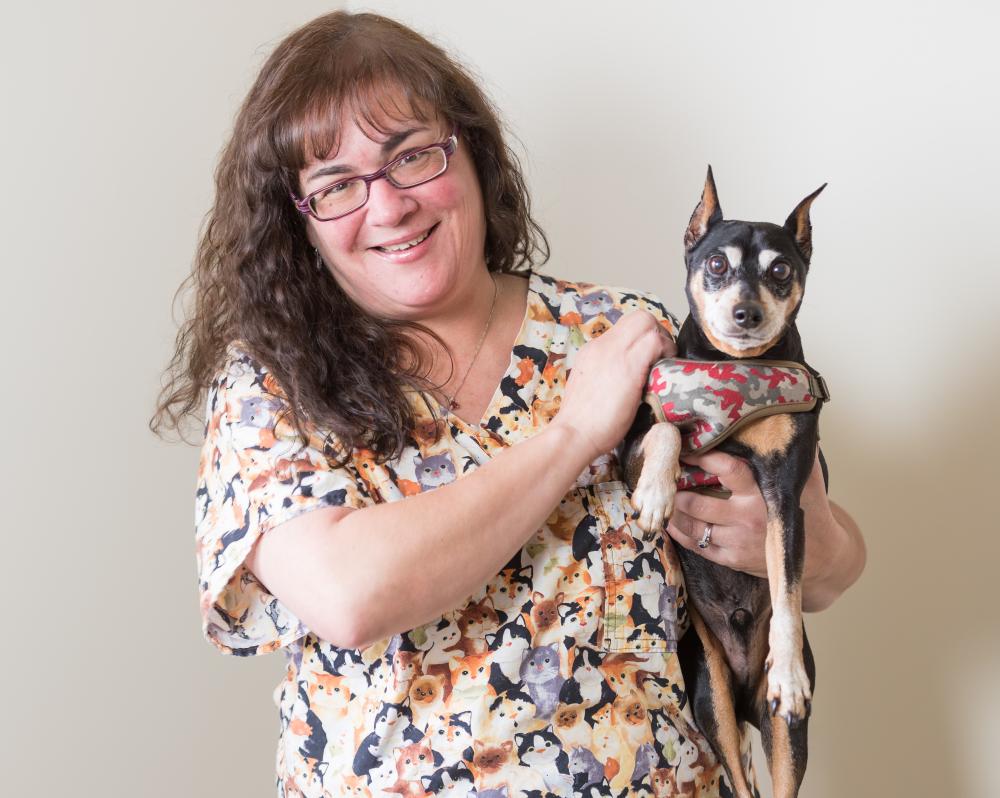 Originally from Southern California, Marie moved to the Santa Cruz Area 10 years ago.
Having grown up around pets from a young age, Marie has always felt a strong bond with animals.
Marie has over 12 years experience in veterinary medicine and is passionate about providing compassionate support for clients and their pets.
Above all, she has a warm spot in her heart and is especially skilled at caring for older cats.
Marie and her husband share their lives with three cats, the very special Blitz, the always curious Lefty and the exceedingly active Cricket.
Outside of work Marie enjoys spending time with her family & outdoor activities.
Heidi, RVT

RVT
Growing up on the East Coast, I often daydreamed of one day living in Sunny California. I was fortunate enough to visit the Monterey Bay on a cross-country tour in the late 1980s. When I met my husband in college we discovered that we shared a similar sense of adventure, and in his travels he too had fallen in love with the West Coast. Finally, in 1991, we picked up and moved to Santa Cruz and we have lived here ever since! We both love the beaches and the accessibility of great hiking and mountain biking trails. With the Sierras a short distance away, we sure have it all! one of my favorite pastimes is walking the beaches and collecting sea glass, stones, driftwood and other treasures to make gifts out of them for family and friends. Our dog LOVES to comb the beaches with me, but we are certainly looking for different treasures.
One of the other dogs in my life loved to swim at the beach and can be credited with my interest in the Veterinary field. He had many health issues and ended up paralyzed in the rear after a long and happy life, and was swimming (literally) until his last day with us. As a later-in-life career change, I decided to attend Hartnell College for the Animal Health program, and became a Registered Veterinary Nurse in 2002. It has been a very rewarding career helping animals and the people who care for them. While I respect and admire all animals, I admittedly feel the strongest connection to dogs, and continue to be in awe of the relationships we are able to form with creatures so different from us. I do enjoy working with a variety of species to keep work exciting, and we are fortunate to work with "exotics" here at Felton veterinary Hospital. On any given day, we can hear Parrots squaking, and guinea pigs squeeking in the exam room. Although the reptiles and snakes are quieter, they are a thrill to work with as well.
I'm very fond of rats and the unbelievably cute paws they hold their food in while eating. We used to have a pet rat that we rescued from a hard life on the streets living with a homeless man. He could not care for the rat and was going to release him in Golden Gate Park. The rat was a very shy boy that my husband was not very excited about adopting, but we came to an agreement that I would do all of his care, and my husband could name him. He hoped calling him "The Hoff" after David Hasselhoff would help him come out of his shell. I even put a picture of the Nightrider car in the cage with him, but ultimately he remained a shy guy. Maybe he would have liked a picture of "Baywatch" instead. I also kept a few hens for a while. They are lovely creatures and I was excited to have a pet that could make me breakfast!
In 2013 we adopted an amazing, sweet and smart 6 year old Labrador mix named Jack. He rides well in the car and is always up for an adventure --we all love camping in the Volkswagen van! Although he didn't inherit the "retrieve" gene from his ancestors and tires of balls or frisbees very quickly, he is happy and proud to bring me some slimy dead thing he found on the beach. Thanks! He loves the ocean and will just swim around in circles for so long that he has been mistaken for a seal on more than one occasion! We also currently have a sweet tabby and white princess, that rules the household and a black male cat that rules the neighborhood.
When I'm not spending quality time with my own pets, I'm happy to be caring for yours at Felton Veterinary Hospital. I love the small-town feel of Felton, where everyone knows everyone else and Henry Cowell park, where we love to walk on our lunch breaks. While it was hard leaving my hometown all those years ago, I have made a new home for myself here in Santa Cruz, and I'm grateful for all the forks in the road that have led me down this path today.

Nancy

CSR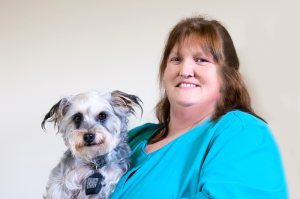 The Santa Cruz mountains are Nancy's home. As a child her favorite toy was a telephone, many years later she is still "playing with the phone" while being a receptionist at Felton Vet Hospital. She feels very lucky to work and live in her home town. Some of the many things she loves about her job is seeing long-time patients with their children, who grow up, marry, and bring their own pets into the clinic. Her favorite things to do while not working at Felton Vet include gardening; growing veggies and flowers; spending time with family and friends; pet sitting; fostering kittens; playing board games and playing with her dogs at the beach.

Justina

CSR
Justina moved to the San Lorenzo Valley in 1998 and now considers Ben Lomond her hometown.
Prior to working at Felton Veterinary Hospital, Justina worked for 11 years in the insurance field. She brings loads of experience confidence and compassion to our front office.
Justina enjoys interacting with each and every patient who walks through the door and is especially good at making both client & patient feel comfortable when they arrive for their appointment.
Justina and her husband and daughter share their life with two cats. The reserved LuLu Oatmeal Elizabeth who enjoys laying in the sun and the wild Sadie Sue who enjoys hunting and head-butting to say hello.
When not working Justina enjoys hiking, camping, live music, dancing and making homemade jam.
Sara

Nurse/CSR
Sara's earliest and fondest memories are of her family cats, Tonka and Gypsy.
Her wide range of experience includes working with exotic animals, rehabilitating orphaned wild baby birds, fostering kittens, volunteering at the local animal shelter as well as caring for small animals at general vet practice in Soquel, ca.
Sara's immeasurable love of animals & serial optimism guides her actions allowing her to provide kind compassionate care to our patients and their humans.
Sara is currently attending Five Branches University and hopes to practice acupuncture on animals someday.
Sara shares her life with her partner, her two children, nine cats: Fidget, Lillith, Ginger, Cosmic, Lotus, Foofie, Wasi'chu, Bonny, Doon, and the one and only Henry Heathcliff a terrier often spotted behind the counter at Felton Vet Hospital.
Janiya

Kennel/Nurse Assistant
Janiya was born and raised in the Santa Cruz Mountains.
After taking a job as a kennel assistant in high school she quickly realized she loved working with animals.
Walking, feeding and picking up after the animals helped her realize that she has a warm spot in her heart and an ability to connect with animals that don't necessarily trust humans.
Janyia works mostly with our boarders, bringing the highest possible level of care for the pets entrusted to us by our clients.
She also enjoys assisting with our weekly vaccine clinics making sure our patients get the individualized treatments they need.
Janyia shares her life with a shy 6 yr old cat named Chimmy that she adopted from a local shelter. Chimmy enjoys spending her days resting in warm spots & playing with her toys.
When she is not walking dogs or vaccinating patients at work, Janyia can be found at the beach or spending time with her nieces.
Simone

Kennel Attendant
Ming

Kennel Attendant
Katie

Kennel Attendant
Ruby

Kennel Attendant
Conner

Kennel Attendant