Ticks are found in abundance in the San Lorenzo Valley. They are most prevalent in early spring and fall but are well adapted to live throughout the year. Ticks live in grassy areas or in brush and dark, moist areas where they wait for a host to walk by. They then crawl onto your pet and bite, attaching for up to several days while they feed.
Following bouts of rain, ticks may be out and about in greater numbers. A tick can only quest up on vegetation for hosts when the humidity is high enough for them to absorb sufficient water from the air.
– Larisa Vredevoe, Ph.D., professor of biological sciences, Cal Poly San Luis Obispo
Continue…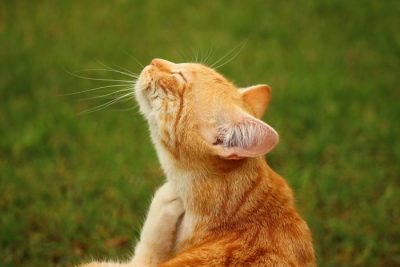 Spring has definitely sprung in the San Lorenzo Valley, and if you're like us, you and your pets can't wait to get outside more and more. But before you head outside this spring and summer for gardening, trips to the dog park, hiking, and general frolicking, let's get up to date on parasite prevention.
When the Felton flora and fauna wake up from their winter slumber, you better believe that parasites are awake, too. However, we've also noticed that mosquitoes, fleas, and even ticks are even more resilient than ever, and with overall warmer winter temperatures and their ability to overwinter indoors (think: your garage, your shed, your house!), we're now recommending parasite prevention and control all year round. Here's more from Felton Veterinary Hospital about why prevention is your best medicine.
Continue…