Many dogs love summer as much as we do, but high temperatures can present a problem for our canine friends.
We talked with Dr. Debbie Mandell, staff veterinarian and adjunct associate professor at the University of Pennsylvania's Matthew J. Ryan Veterinary Hospital, about what factors can increase your dog's risk of heat-related injuries and even death. Heatstroke is one of the many problems that veterinarians at Ryan see in the 13,000 emergency cases that come through their doors each year. Here are five factors that Dr. Mandell says can put your dog at risk for heat stress.
What Makes Some Dogs More Vulnerable
1. Congenital defects or underlying respiratory problems. One of the top risk factors, Dr. Mandell says, is upper-airway problems. You may coo at every adorable, flat-faced dog on your block, but breeds like Pugs, Bulldogs, French Bulldogs and Boxers can suffer from brachycephalic airway syndrome. Unlike humans, who sweat when we're hot, dogs use their respiratory system to get rid of heat — and these flat-faced breeds' airway abnormalities put them in danger of heatstroke when they're exposed to higher temperatures.
Another underlying respiratory condition that can land dogs in big trouble is laryngeal paralysis, which is common in medium and large breeds like setters, Labradors and Pit Bulls. Additionally, small dogs like Yorkshire Terriers, Pomeranians and Maltese are commonly affected by collapsing tracheas. In both of those situations, Dr. Mandell explains, the dogs will pant to release heat, and their panting causes swelling in the airway, which causes them to pant harder, which results in more swelling. "They enter this vicious cycle where they get worse and worse really quickly," Dr. Mandell says.
2. Not being acclimated to hot weather. "On the first hot day, everyone wants to go for a run with their dog or play outside in the yard," Dr. Mandell says. "Dogs are not going to stop, even when they can't breathe or are about to collapse."
It's up to you, then, to know the signs of heat stress, so you can help your dog cool down before it becomes an emergency. Those signs include excessive panting and drooling, a fast pulse and gums that have changed in color from pink to bright red. Vomiting and bloody diarrhea are signals that the heat may have started to affect internal organs.
3. Being kept outdoors without access to shade and water. It can be dangerous for an indoor dog to overexert himself in hot weather, but pets who are primarily housed outdoors are also in danger. "As much as we try to discourage it," Dr. Mandell says, "there are people who have outdoor dogs." Keeping a dog outside in the summer, especially without appropriate access to shade and cool water, is a risk that's not worth taking.
4. Being left in the car. Speaking of risks that aren't worth taking, it is never OK to leave a pet in a hot car. "It's been documented that the temperature inside a car can reach over 120 degrees in minutes," Dr. Mandell says. "If you have that window cracked a tiny amount, it's really not going to help." Fortunately, Dr. Mandell says, thanks to lots of recent news stories about dogs (and even children) being left in cars, she's not seeing as many of those cases.
If you see an animal locked inside a hot car, there are steps you can take to help rescue it safely. The Humane Society of the United States, and the ASPCA recommend that you write down the car's make, model and license plate; attempt to locate the owner; and call animal control or your local police department for help.
5. Obesity. While it is not a congenital defect like brachycephalic airway syndrome, obesity can certainly put your pet in harm's way when it comes to heat stress. It makes dogs more susceptible to many issues — like joint and back problems — and heatstroke is no exception.
Dr. Mandell explains it this way: While some heat can escape through the respiratory system through panting, "70 percent of the heat loss in dogs and cats occurs by radiation and convection through the skin." When the core body temperature rises, blood vessels dilate, the heart pumps harder, and there is increased blood flow to the skin, where heat is lost to the environment. In obese dogs, the large layer of fat under the skin serves as insulation and can prevent some of that heat from getting to the skin to be released.
One last note: An extremely thick coat of fur can cause the same situation, so you should also watch closely for signs of heatstroke if you own a furry breed like the Newfoundland or Great Pyrenees.
And if you think your dog is experiencing any of the signs of heatstroke, contact your veterinarian or local emergency clinic immediately.
More on Vetstreet.com: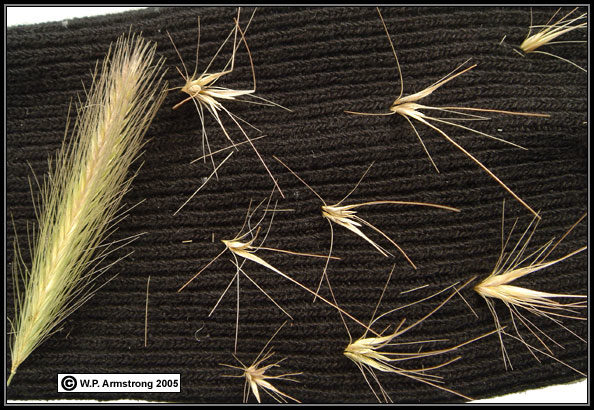 Does your dog hike or run with you in grassy open areas? Or do they love to go sniffing in overgrown areas in your yard or neighborhood? Uh oh, foxtail season is HERE. Here's how to recognize, and more importantly, prevent these nasty weeds from hurting your dog.
What is a foxtail?
A foxtail is a grass-like weed that blooms every spring and releases barbed seed heads. These barbs can work their way into any part of your dog's body- including eyes, ears, nose, mouth, and even directly into the skin. Because of their barbed nature they tend to be very difficult to remove, and even worse, they can travel beyond sight very quickly.
Where does foxtail grass grow?
If you're out and about with your dog you've probably seen this weed growing everywhere. It can be found in grassy areas, in yards, and even in the sidewalk cracks! Because of heavy rains this winter, foxtails are on the rise this season due to the heavy rains this past winter.
Why are they dangerous?
The danger of foxtails goes beyond simple irritation. The seed heads don't break down in the body, so an embedded foxtail can lead to a serious infection for your dog. Like an arrow, they only travel one way – deeper into your pet's body – and don't come out on their own. If caught early they are relatively easy for your vet to remove. But if left untreated they can cause infection, and in serious cases, can travel through the body to your pet's internal organs and even cause death.
How do I tell if my pet has a foxtail?
Foxtails are most commonly found in the nose, ears, eye, or between the toes, but can enter the body anywhere. Here are the most common symptoms to look for.
Nose: Nasal discharge and/or sudden onset of violent sneezing can indicate a foxtail in the nose.
Ear: If your pet is shaking his head, tilting it to the side, or scratching at the ear incessantly this could be an indication of a foxtail in the ear canal. They are usually so deep that you can't see them and your veterinarian needs to take a look with a special scope.
Eyes: Discharge, redness, squinting, and swelling all could indicate a foxtail in the eye.
Feet: Foxtails love your pet's feet and can get lodged in between toes in particular. If you notice limping, swelling, discharge or tenderness of the feet, a foxtail could be the problem.
Outfox the foxtails- tips for prevention
What can you do during foxtail season to make sure these nasty weeds don't prevent your outdoor fun? Examine your pet's coat after outdoor time, especially if you have gone walking in open fields. Check your pet's face and ears carefully, as well as their mouth, paws, and in between toes. Brush your pet as necessary, paying special attention to feathery, thick, or curly fur. Use tweezers to remove any foxtails you can easily get to, but remember that foxtails won't come out on their own, so if you see any deeply embedded or if the area is red or swollen, call your veterinarian right away.
If you have what we lovingly refer to as a "foxtail magnet," consider trimming your pet's fur during foxtail season, and keep your dog out of overgrown, grassy areas.
Our own adorable foxtail magnet is Bugsy!
Bugsy is a lovable 2 yr old Staffordshire Terrier mix who came in to see us not once, but TWICE within 2 weeks for the removal of foxtails from his tonsils. Ouch! His owners Chelsea and David brought him in the first time after a night of intermittent gagging.
In order to see what was going on and provide Bugsy with a calm, non-threatening experience, Dr Keil sedated him with a safe anesthetic. She then used a special scope to get a good look at what was going on. She found green foxtails embedded in his tonsils, along with tons of redness, swelling, and bleeding. Poor guy! Dr Keil removed the foxtails, Bugsy recovered well from the sedative, and he was then sent home feeling much better. Needless to say, after this event, Chelsea & David removed all foxtails from their yard!
But our little Bugsy was not to be deterred! Two weeks later, he escaped from his yard. He was found in a neighbor's yard eating foxtails! This time Chelsea and David did not wait for symptoms and brought him right in for sedation and scoping. Once again, fearless Dr Keil sedated and scoped to get a look. Again we found foxtails in addition to spiny oak leaves . Double ouch! Once again the plants were removed and Bugsy recovered well.
No more escaping for Bugsy, and hopefully, no more foxtails in the throat.
You know you need a dog first aid kit for hikes or camping trips you take with your canine, but do you know what should be in it? In this short video, Dr. Sarah Wooten covers basic first aid supplies — like butterfly bandages, tweezers and a muzzle — and how best to store them.
Before you go out with your pet on such an adventure, read up on basic first aid procedures, including when to induce vomiting and when not to. And, of course, if your dog has special needs, consult with your veterinarian for recommendations about additional supplies.